Have you ever wished you could travel back in time to experience what life was like in Paris during the 18th century?  The lives of the people were vastly different, based upon their social status and degree of wealth.  During this time period, Paris was the second-largest city in Europe, after London, while it was also most notably recognized as one of the founding points of high fashion and haute couture.  This was a fashion-forward era that led to the creation of custom-fitted clothing that was exclusively handmade from start to finish.  Each piece of clothing was created by using high quality fabrics with extreme precision in craftsmanship and attention to detail that reflected the wearer's wealth and societal status.
Sass3 felt privileged to be able to explore this era of French fashion while attending a live lecture at The Getty Museum in Los Angeles, California.  In this blog we will highlight the extraordinary teachings of Maxwell Barr as he discusses and demonstrates the art of fashion in the prosperous world of 18th Century France.  With the help of a model, we were able to catch a glimpse into this world through live demonstrations of the daily wardrobe that was worn by the elite households of France.  Each article of clothing was reflective of historical pieces found during this time period while also illustrating examples of original fabric, lace, and accessories from this era.
Come take a Timeless Journey with us as we experience the level of artistry and design that will not only delight the eyes, but also please the soul – as nothing can truly prepare you for the level of beauty and workmanship found in the attire we discovered while attending:  An Artist at Work – French Fashion. ♥
---
The Essential Elements for Fashionable Dress
Source J. Paul Getty Museum as part of the Open Content Program  / 84.PA.668. A painting by Jean-François de Troy (French, 1679 – 1752) entitled Before the Ball. Painted in 1735 it depicts the scene of a maid as she puts the finishing touches on her mistress's hair, while two women lean in to listen breathlessly to what she is saying. Partially disguised and holding masks, they wear lavish cloaks in anticipation of the evening festivities ahead.
I have a true passion for art and history.  In my opinion, it is a window to learn more about world history and, of course, the political and societal life of the past.  This interest leads to hours spent  observing, admiring, and appreciating all facets that will allow me to quench my desire to acquire greater knowledge and understanding of what life was like.  After attending this lecture I have now developed a whole new appreciation of the moments captured in various forms of artistic imagery throughout the 18th century.
Words could not express the joy I felt in listening to the charismatic and knowledgeable presentation given by Maxwell Barr.  His level of expertise gave us insight well beyond our expectations.  Many emotions were expressed by the audience while we were introduced to each piece of the collection, from disbelief to adoration, there is no question that we all were thoroughly captivated during the entire two hours.  I hope to do justice to this experience by sharing my own personal notes I had written to individually appreciate each article of clothing that was presented.  All the information I gathered was from the presentation and through the live demonstrations with the model, as she exhibited each piece of her exquisite attire.  French fashion was truly a piece of art.
---
The Shift:  The Foundation For All Attire
The shift was the innermost layer worn by women.  It was made of various qualities of linen and the designs were reflective on the top layers of clothing to be worn.  For example, the shift could be designed to have a square or scoop neck depending upon the daily attire.  Interestingly, the common shift pattern was specifically designed to have an added insert on the side, defined as a gore, for the purpose of forming the foundation worn beneath their clothing to be more precisely shaped around their body.  I was also fascinated to learn that many forms of linen used during this period could retain approximately 20% of the bodies natural perspiration.  Although designed to be durable while being worn, this garment could not easily withstand frequent laundering.  Many original shifts can not be found from this time period due to these reasons, where one would see the gradual compromise of the material's integrity.  To account for this occurrence, it was an accepted tradition to give the bride six dozen chemises as a wedding gift.
---
Stockings:  A Private Affair
A lady's stockings were certainly the most private of affairs.  The task of putting them on was often done in complete privacy without the assistance from  their maids.  Elastic, of course, was not invented during this time period.  Silk ribbons were often used to anchor the stocking above the knee.  Increased tautness of the ribbon had to be achieved to prevent the natural fall of the stocking given to gravity.  It was marvelous to see the model demonstrate this action – as we witnessed first hand how much tension was actually required to tightly secure each ribbon.  This was something I never reflected upon, until this three dimensional presentation.
---
Corset:  The Key to the Perfect Silhouette
Shape and silhouette were important factors in the 18th century.  The corset was the key to establish this desired image.  It took multiple hands to properly place and lace the corset – for if it was not tight enough, the other dressings would not fit properly.  Most of the corset was secured by lacing with a needle in the back.  Although the chemise, or shift, may be changed up to 3x per day, the corset would always be reworn.
The corset was designed for the purpose of being strong and durable to give the body a "fashionable shape."  To complement the function of this garment, the boning of the corset were typically placed in a V shape to accentuate the image of the body.  The typical fabric utilized for the corsets may have included linen or, in certain cases, a fancier fabric like a brocade .  There were often difficulties associated with brocade due to the manner in which it was woven, causing the fabric to gradually disintegrate with repeated handling and limited durability to being washed.  As a result, linen was often the fabric of choice due to breathability and overall durability.
More interestingly, I discovered that corsets were primarily made by men due to the fact that it was difficult work to cut and set the bone features.  Ultimately, its creation was extremely hard on the hands and men were the only ones who were strong enough for this task.  Baleen, from a whale, was the preferred material for the bones of the corset.  They were similar in composition to nails or horn that could be molded into the shape or form of the dress.  More importantly, this product enabled greater success in molding the corset to the wearer's body.  Tabs were also sewn to the corset, over the hips, to further accentuate this desired shape.
It was all about the illusion of the silhouette.  French society wanted to portray the image of women similarly to a doll, through the means of makeup and achieving the perfect shape and silhouette.  Illusion was everything.

– Lecture with Maxwell Barr at the Getty Museum
---
Morning Toilette:  Countless Hours Spent Leisurely Grooming
Morning toilette, I was informed, often took place between the hours of 8 to 11 a.m.  It was during this time period that dressing became more of a public affair.  Toilette, defined as the ritual of rising and dressing with the assistance of their maids, was an hours-long affair.  It consisted of luxurious pampering, grooming, wardrobe assessment, introduction of the newest fashions and materials, and equally important, the discussion of business or social affairs taking place.  Men and women of wealth equally participated in this daily ritual.
My favorite revelation during the discussion was about the hair and makeup of the time period.  The standard hair style consisted of a braid at the base of the neck which was then secured at the top of the head.  The ideal styling required the hair to have a dull appearance or even greyed to portray an image of maturity.  To achieve this, a specialized pomade was made from liquified bone marrow, accented in aroma to be more pleasing to the user.  Powdered rice or potato starch was also added with additional coloring as the final touch.  In addition, the application of vibrant makeup was considered to be very important for an aristocratic woman.  The face was viewed as an equivalent to canvas.  Thick layers of white paint were often used to cover the skin, while increased application of bright rouge was utilized as a symbol to indicate wealth and status.  In other words, the higher in social status or royalty – the brighter the color of cheeks.  No limitation was off the table here, resulting in rather intense coloring that would certainly draw immediate attention by all who surrounded them.
---
Exploring Daily Pursuits 
Much of the morning routine included time spent hand embroidering material that would be used later to make gifts for the men of the household.  These gifts often included caps for their fathers, uncles, or even brothers – as it was often cold when their wigs were removed!  On special occasions embroidery was also added to enhance the details of aprons as gifts for their mothers or  sewn onto bags that were often carried to hold letters or other small personal items on daily walks.
One piece of artistry that was often underestimated by the novice viewer, was the skill, level of precision, and length of time required for White-Work.  This task was defined as the "general term for embroidery that incorporated the use of a white ground fabric and white embroidery yarns to create an intricate pattern or design."  In all honesty, the level of work in the embroidering of material made for gifts or personal use could not be as appreciated until you see it in person.  The intricate details and precision of the embroidery work was truly mesmerizing.
---
Take A Step Back In Time:  Admiration for the Artistry of French Fashion and Design
The approach to fashion in the 18th century was much different than it is today.  Each piece of clothing required extended time and a high level of craftsmanship to create.  It was common to change at least 8 to 10 times each day.  Can you imagine changing this many times in one day?  The level of time it took to change their clothing and attire was substantial.  However, French fashion was viewed as form of decorative art that went hand in hand with the opulent furnishings and decor of the household.  Their attire had a place and a purpose – to illustrate a world of luxury.  It was common for clothing to remain within the family, with the exception of giving some articles of the finer fashions to the heads of the households.  From furnishings to staff, this form of practice further supported the appearance of luxury and wealth to include every aspect of the household.
The beauty of this time period, we learned, was that these fashions took time and there was very little change in the primary styles of the clothing worn – unlike today where we see clothing shift to reflect each season or trend.  Madame de Pompadour, a member of the French Court and the mistress of Louis XV, was the inspiration for some of the designs presented at today's lecture.
Let's take a closer look at the beautiful attire worn by the model that reflected three possible activities that influenced her daily routines, including an informal ensemble worn in the privacy of the home, formal day wear, and, of course, an exquisite gown worn during formal court occasions.  The beauty of this presentation was that each example created was modeled after true historical designs.  Words could not contain my excitement in seeing these elaborate and intricate forms of clothing!   My heart was filled with joy and appreciation, as Maxwell Barr opened a whole new window into the art and design of French fashions!
---
Informal Day Wear:  Worn in the Privacy of the Home
The model is demonstrating the type of clothing that was often worn  in the privacy of the home.   She is wearing a heavier petticoat that is made of white silk taffeta with a Coraco jacket worn at hip-length.  The subtle characteristics of lace and silk bows were often details that demonstrated their wealth.  Holding her embroidery hoop, she was ready to engage in one form of her daily pursuits, embroidery.  On her head you will see a straw bergere hat with two exquisite streamers of lace, called lappets, that were attached to her headdress.  She looked stunning!
Did you know?

  Lappets, streamers of hand made lace, were also a visual demonstration of wealth.  Commonly worn in the 17th century, there was a specific reason why women sat with their back to the driver while riding in carriages.  If she did not sit in this position, thieves would attempt to grab the lappets in order to sell them.  The reason – lace was more valuable than gold.  
---
Formal Day Wear
This style of dress was a beautiful representation of a walking skirt, possibly made of silk textile, and a matching jacket.  A full brimmed bergere hat was also worn, which was very popular during this time period.  On her shoulders you can see a fichu, a square or rectangular kerchief made of lace, that was worn to cover the exposed neck and tied in the front of the bodice of the dress.  The fichu could also be pinned or tucked if needed.  It provided a layer of modesty to hide exposed areas.  As always, these forms of fashion detail take their cue to support societal norms while also never faltering from the spirit and radiance of fashion.
One question that was asked from the audience was in regards to the purpose of large brimmed hats.  We learned that the bergere hat, such as this one, was often styled to be flat and brought forward with a wide brim to shield the face from sun exposure.  In addition, gloves were also worn for the same purpose.  The clothing not only reflected the level of artistry in design, it also served a purpose to ensure the right image was being portrayed to meet societal values.
Did you know?

Silhouettes were considered so important that a lady of wealth did not straighten her arms while in public.  The clothing accounted for this form of etiquette by incorporating a curve in the sleeves of the jacket or even adding weights to ensure correct posturing.  
We truly loved this example of a Brunswick jacket.  This picture does not do the coloring justice, as it was a perfect shade of plum with ruched trim, lace adornment on the cuffs, and a pleated back.  Notice the sewn curvature of the sleeves to hold the arms in the appropriate position as per the etiquette of this time period.  This was typically worn for traveling along with an embroidered bag to carry any personal items.  Gorgeous!
---
All You Really Need Is The Right Pair Of Shoes

These shoes were simply STUNNING!  Initially hidden behind some of the accessories, our presenter slowly revealed them to me as I was marveling at the other pieces on display.  The details!  Upon closer observation, each element of this shoe was truly breathtaking.  We, as audience members, were not only amazed by the special attention to detail – we were astounded to learn that, historically, there was typically not a right or left shoe.  In fact, the shoes were made universal.  It was only through natural wear that the shoes would mold to the specific foot placed within them, creating a left side and right side over time.  I know one thing is for certain, he had me at shoes.  ♥  I would adore the opportunity to wear a pair of shoes like these.  Thank goodness for American Dutchess, a wonderful place to locate 18th century inspired shoe designs.  As you can imagine, I am saving for my own first pair.
---
Accessories Will Always Complete an Outfit – No Matter What Century You're In
The level of craftsmanship in the individual designs of the accessories and dress embellishments, such as lace, were made with with a level of artistry that took extended time and skill to create.  Each unique in its individual beauty, adding an essential accessory to the style of dress during this time period.  We were elated to see originals from the 18th century, including  a hand-painted fan, two examples of lace, and a yellow, hand embroidered panel from the 18th century.
I learned so much during this presentation.  Prior to this, I always marveled at the details and embellishments of each article of clothing.  However, now I realize that as I look at the ornate details of a design – I must also appreciate the level of time it took to complete such work.  One thing I heard from a fellow admirer during the presentation was "The best seamstress could place 20 stitches per square inch."  In fact, that seems rather true – knowing that one square inch of Bobbin lace could take up to 12 -18 hours to complete.  This fact presents a whole new appreciation for the skill and time that was required to create these designs.  Knowing the length of time it took to complete a 1 inch piece of lace gave you a formula to help calculate the total amount of time required for its creation.  One example:  A man's lace cuffs took approximately 9 months to create!  Isn't that simply amazing?  In addition, lace woven with extremely fine thread, even flecks of gold, added to its overall value and worth.  As our presenter so eloquently stated, "Lace was worth more than gold."  I can honestly state that this is a point that I will appreciate in the future when I visit other exhibitions that have original fashions on display.
---
A Gown Fit For the French Courts
As she was adorned with the final accessories, the model was a pure vision of beauty and offered a window into what French Court Fashions must have looked like.  Clothing as elaborate and adorned as the furnishings, were true pieces of individualized art – where every detail was accounted for.  The importance of shape and silhouette is reinforced by the wearing of "panniers" or hoops, the french word for basket.  This gave the shape that the women ultimately wanted, while also offering some practicality as she could place items secretly inside.
In this particular dress there are 60 posies which required 20 yards of ribbon to make.  Lace and silk bows adorn the sleeves.  However, most importantly the stomacher was often adorned in jewels to illustrate wealth.  The detailing below illustrates the art of decorating the stomacher.  As audience members, we felt honored to see this dress one last time before it was placed into "retirement."  Maxwell Barr's work is phenomenal and we appreciated each moment of this unique learning opportunity.
---

A New Window Has Been Opened
Our time at the Getty was a welcome one.  There was nothing more enjoyable than spending an afternoon learning about the level of artistry in French design.  From fun facts to real examples, a new window had been opened to have a greater understanding and appreciation for fashion history, as it is depicted in portrait images throughout the museum's galleries.  I can now understand specific details, styles of dress, or even hints to the message the portrait artist was trying to portray.  My time flew by, however, I enjoyed every moment.  We hope this blog increased your interest in learning more about this time period.  Although I am not a historian by profession, I hope my passion and drive to learn more about fashion history encourages greater appreciation for costume designs in our favorite period series.
Sass3 sends a heartfelt thank you to The Getty Museum and our presenter, Maxwell Barr, for sharing not only his enthusiasm for recreating 18th century French fashions, but also making his lecture dynamic and engaging – so each audience member could visually explore the movement and wearability of these designs.  The information we learned was unique and we couldn't have found ourselves in better hands to expand our own knowledge.  An experience I am sure none of us will quickly forget.  ♥
Did You Know?

Small birds played an important symbolic role in the courtship ritual of the 1700's.  The gift of a caged bird from a man to a woman signified her capture of his heart.  How romantic!  Another important note, the calf was considered the most attractive part of a man at that time.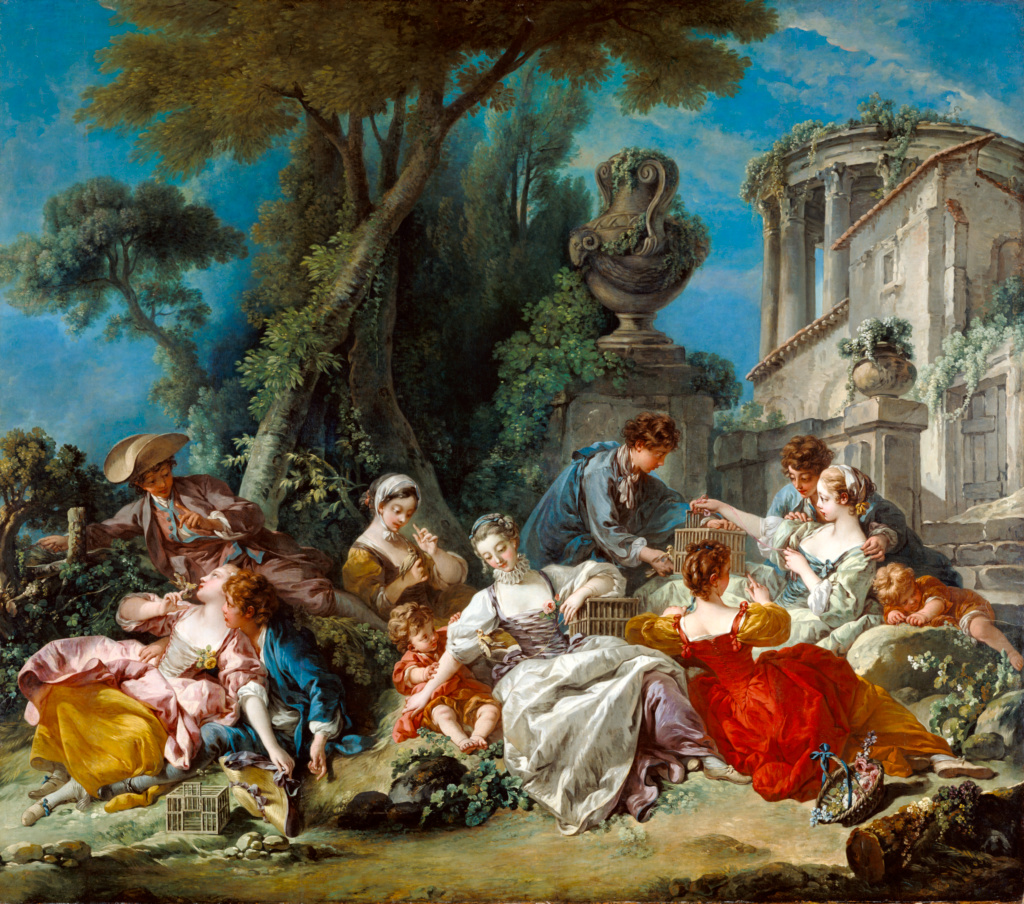 All photos from our blogs are owned by Timeless Sass3nach Journeys, unless noted or attributed. The use of our photos is not permitted unless consent is given.
---
References:
http://www.smithsonianmag.com/smart-news/what-18th-century-paris-sounded-180960724/

https://en.wikipedia.org/wiki/Haute_couture